Yoga

Teacher Training

Greece
200-Hour Vinyasa and Ashtanga
Lefkada Island, 2021
​
11 October - 1 November 2021
200-HOUR VINYASA AND ASHTANGA
YOGA TEACHER TRAINING
Greece 2021, Lefkada Island
NEW COVID-19 REQUIREMENTS: Alpha Yoga School's Measures To Prevent Covid-19 during Yoga Teacher Training:
Until further notice, all students are requested to undertake a diagnostic molecular test (PCR) before joining the on-location courses in Greece. Students must take the test either in their country no earlier than 72 hours before the flight.

A deposit of 400 Euros is required to reserve your spot. Taken into consideration the current situation that we all face due to Coronavirus, all the deposits made after the 10th of March 2020 are fully refundable for Covid-19 reasons, until 28 days before the arrival date. After this date, the deposits are strictly non-refundable. Please email us and we will send you our triple-step "You don't lose your deposit guarantee".

All deposits which were made before the 10th of March 2020 are non-refundable but transferable to another yoga retreat, teacher training, or even to another person found by the initial student.

The above prices already include an early bird discount of 200 Euros/person. To benefit​, reserve your spot 2 months ahead.

All packages are residential and include the accommodation of your choice, daily breakfast, light lunch, dinner, drinking water, tuition fee, and student yoga manual. Oh, and lots of coffee and amazing desserts.

Check-in is available from 4:00 pm the day the course starts and check-out is at 10:00 am on the day the course finishes.
YOGA TEACHER TRAINING IN GREECE 2021 - OVERVIEW
Our 200-hour Vinyasa Flow and Ashtanga Yoga Teacher Training is a foundational course designed for all levels of yogis. It is ideal for yoga students:
who like dynamic yoga classes and wish to improve their practice (do you feel that teachers don't give you enough cues of how to do the poses correctly?)

would like to share the benefits of yoga with others

would like to learn about the philosophy of yoga

who are already yoga teachers and wish to expand their existing skills by taking another 200-hr course (always be a student)
By the end of the course, you will obtain the skills, tools, and confidence to teach Vinyasa Flow Yoga. You will have many opportunities to teach yoga to your fellow students, giving and receiving constructive feedback from students and teacher. At Alpha Yoga School we strongly encourage each student to discover and develop her/his unique style and voice as a teacher. We do not create a monologue of how and what the teachers should say in their classes. (Bikram style)
You will obtain a solid self-practice based on Ashtanga Vinyasa Yoga. This ability will allow you to take your practice away from the studio and will enable you to practice on your own anytime, anywhere. You will be your own teacher. Isn't that great? To be able to practice on your own? Without having to drive half an hour to reach the studio? 🤔
​
This training is recognized by Yoga Alliance USA and UK and upon completion, you can teach yoga anywhere in the world. The course focuses equally on four educational categories: Asana practice, Yoga Philosophy & Ayurveda, Functional Anatomy and Teaching Skills & The Art of Adjustments. Upon successful completion, graduates may register with Yoga Alliance USA and UK and can teach yoga anywhere in the world.
We welcome "stiff" students, students suffering from an injury or other health challenges, and we encourage their attendance! Pregnant women are welcome. If you love learning, have a body, and can breathe – this training is for you.
This teacher training is limited to 20 students per course to ensure you get the attention you deserve.
You will study with a team of three dedicated instructors.
​
Come as a practitioner, leave as a teacher.
THE 200-HR YOGA TEACHER TRAINING AT A GLANCE
Vinyasa Flow Yoga and Ashtanga Yoga in the morning asana classes.

Alignment break-down for 51 yoga poses (their keys and aims).

Modifications, variations, and use of props.

Hands-on adjustments techniques (a module which you will not find in other 200-hour courses).

Teaching skills (how to give verbal instructions, how to demonstrate poses).

Break down analysis of Vinyasa classes that are taught to you in the mornings (a technique which you will not find in other 200-hour courses).

Yoga philosophy and introduction to Ayurveda.

Pranayama and meditation techniques.

Yoga anatomy: functional anatomy applicable to yoga practice.

Common injuries and how to avoid them.

Teaching your fellow students and receiving constructive feedback.

Workshops for more complex and challenging poses.

The business of yoga, yoga career, and marketing.
YOGA TEACHER TRAINING LOCATION - PARADISE
Explore the practice of yoga while living the good life of Greece. Lefkada island is located in the Ionian Sea and is connected to mainland Greece with a 50-meter long bridge. Lefkada is a popular travel destination nicknamed "The Caribbean of Greece". Its turquoise waters, iconic beaches, whitewashed villages, and natural wonders will connect you with the true meaning of yoga while you relax and recharge.
Urania Villas Retreat center is a true paradise on earth. This hillside retreat bestows an immediate feeling of tranquility and peace that will make your Yoga Teacher Training a rich and unforgettable experience. Immerse into yoga practice while enjoying stunning views of Ithaca island, the mythical home of Ulysses.
Minutes away from an exclusive private beach, we can't think of a more luxurious destination to explore the practice of yoga.
ALL INCLUSIVE YTT - ACCOMMODATION AND FOOD
The retreat center consists of 5 luxurious stone villas, each one having three bedrooms. Each villa can accommodate 3-6 guests in either single or shared twin rooms. Each room has its own ensuite bathroom, air conditioning, Wi-Fi, and luxurious Coco-Mat mattresses and pillows. You will sleep like a baby :-) Each villa has a fully equipped kitchen upstairs with filtered water, a washing machine so that you can do your laundry, a swimming pool for your lunch break and weekends, and a spacious terrace with an amazing sea view. For additional information and photos, please visit https://uraniavillas.gr
Accommodation options:
Single: 1 double bed (180cm x 200cm)
Shared Twin: 2 single beds (100cm x 200cm)
​
Breakfast, light lunch, and dinners are included in this training. Urania, the owner of the retreat center, cooks all the meals herself, putting all her love into planning and cooking healthy and delicious meals for us. Breakfast consists of eggs, porridge, Greek yogurt, honey, fruits, home-made marmalades, tahini, peanut butter, rice cakes, almonds, walnuts, hazelnuts, cheese, orange juice, tea, and coffee. Dinners include soup/starter, salad, legumes, rice, greek dishes and some evening we will have dessert. Lunch can include a sandwich, lentil soup, crepes, hummus spread, lemon cake.
All students have the same food, no exceptions made. Vegan and gluten-free surcharge is 50 euros/person. Let us know in advance when this is the case.
LEARN EVERYTHING ABOUT YOUR TRAINING
TEACHING SKILLS
---
In this module, you will learn essential sequencing principles in order to create your own Vinyasa Flow classes. We will look at the difference between sequencing for beginners versus more experienced students. We will cover the different types of Vinyasa classes, which are: well rounded class peak pose class peak pose per flow themed class Teaching skills will include:
how to demonstrate asanas including reasons to demonstrate, when, why, do's and don'ts
how to maintain group energy
how to work with a mixed-level class
how to give verbal instructions
how to use your voice as a yoga teacher
There will be lots of practical teaching, planning, guidance and feedback on how to improve and enhance all these teaching skills. You will observe, teach and receive constructive feedback from your fellow students and your main teacher.
---
MORNING ASANA CLASSES
---
Our asana curriculum is split equally between Ashtanga Yoga and Vinyasa Flow Yoga, with three Ashtanga and three Vinyasa yoga classes per week. Ashtanga Vinyasa Yoga is a pre-set sequence of postures linked by the breath. Through the practice of breathing, postures (asanas), and gazing point (drishti), one slowly gains control of the senses and mind. Over time, with repeated practice and devotion, it unfolds into a moving meditation, awakening a sense of subtle awareness within. The mind becomes calmer, and slowly we are able to clear away the clutter. When this happens, the light of yoga begins to shine. This is the transformational beauty of the Ashtanga yoga practice. Vinyasa Flow yoga means flowing from one posture to another using breath. No two vinyasa classes are alike. The morning Vinyasa classes are designed to complement the theory we cover in the "Teaching skills and Sequencing". In these classes, you will grow as a practitioner, deepen your practice and learn to work with your body in a more skillful and effective way.
---
ALIGNMENT AND HANDS-ON ADJUSTMENTS
---
In this module we will examine 51 yoga postures in terms of:
correct alignment (called key alignment) and what is the aim of each pose
common misalignments, misconceptions and tendencies
modifications using props or not
hands-on adjustments with many opportunities to practice on your peers, while receiving feedback from them and your teacher.
---
WORKSHOPS
---
In these workshops, we break down complex postures like lotus, headstand, backbends, transitions, chaturanga dandasana, jump back and jump through and inversions. We teach baby pre-requisite steps that include preparation exercises, appropriate warm ups and requirements for the full expression of the posture. These classes will bring safety, awareness and mindfulness to your practice and teaching. They are a game changer :-)
---
ANATOMY
---
You will explore functional yoga anatomy and how to safely deepen your practice through your body. You will learn about the skeletal, muscular, and nervous systems through a comprehensive breakdown of the regions of the body most applicable to the practice. Through practical application, you will investigate the different types of connective tissues, experience the movements of the joints, and connect with your fascial body. You will leave with a more profound understanding of your own and your students' body anatomy.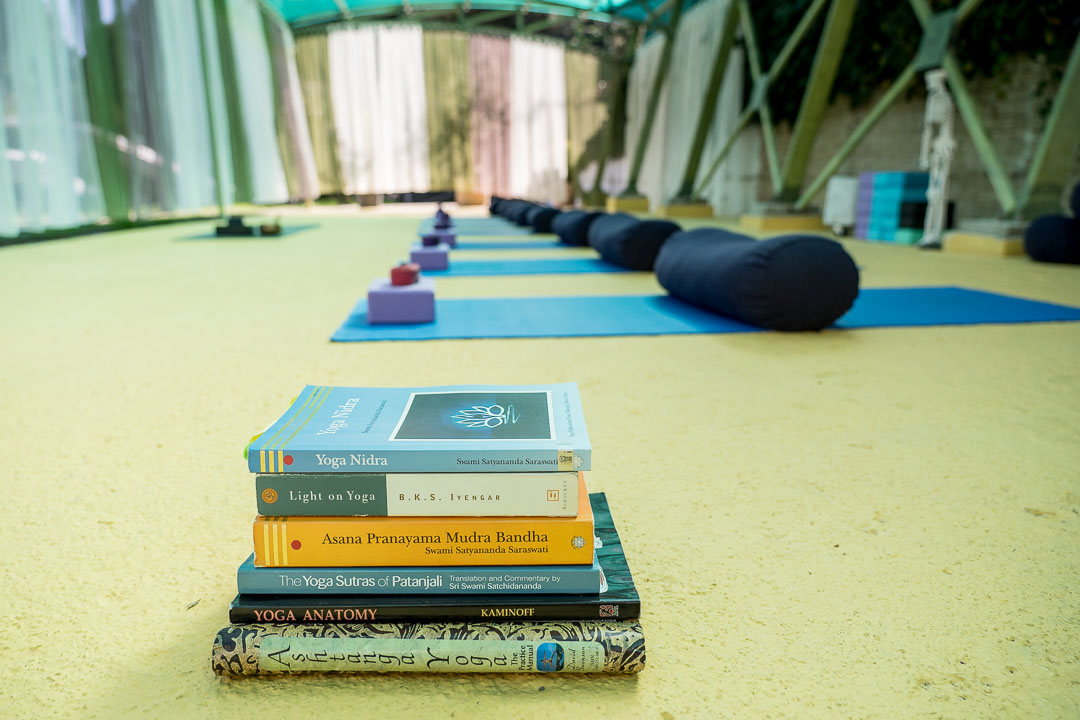 ---
PHILOSOPHY
---
Yoga philosophy is interwoven throughout the course. We will explore what yoga really is; its meanings, significances, ethics and practices in the past and present. We will investigate the roots of the practice; the Vedic tradition and its culture, myths, mantra chanting, bhandas, kryias and their meaning. We then continue down the evolutionary paths of both classical and modern yoga practices. You will be introduced to the Yoga Sutras of Patanjali, the Hatha Yoga Pradipika and the Bhagavad Gita, gaining insight on their commentaries. We will discuss how to integrate yoga philosophy into our every day life.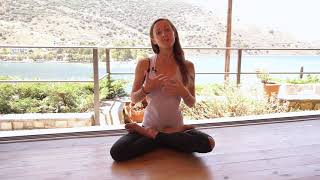 ---
AYURVEDA
---
Ayurveda, the Vedic science of health and longevity, is intrinsically linked to the practice of yoga. These two sister sciences were developed together and traditionally are taught together. We will explore the foundations of this extraordinary holistic discipline while learning its basic principles of self-healing that can be applied both on and off the mat.
---
YOU WILL GET CERTIFIED
---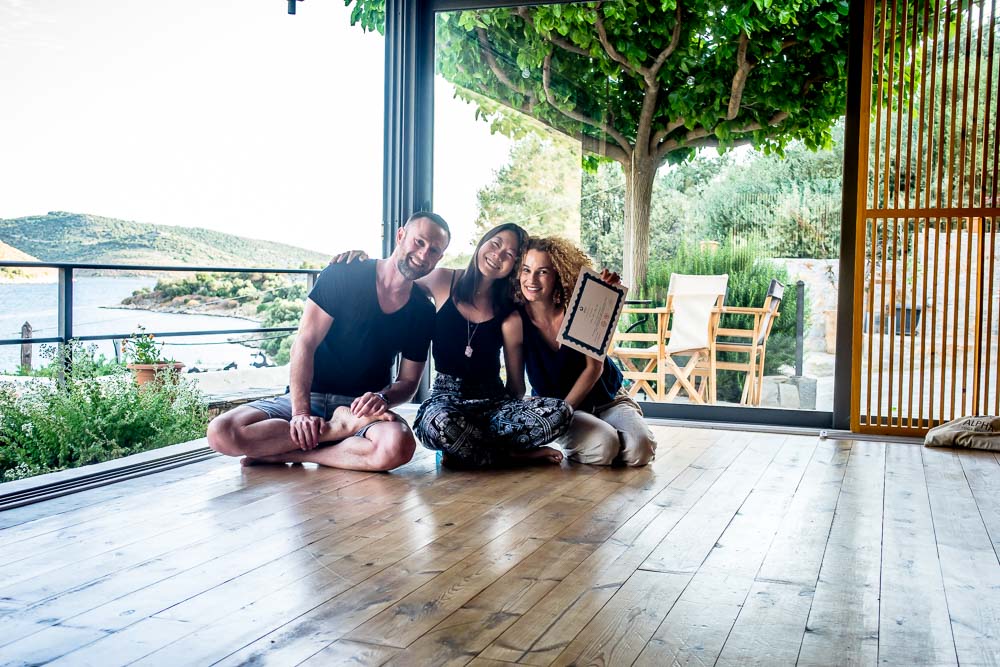 Upon successful completion of the practical and written assignment, you will receive a 200-hour certificate. You will be eligible to register with Yoga Alliance USA and UK as a 200-level Registered Yoga Teacher (RYT-200).
---
WHAT YOU NEED TO CONSIDER
---
This course is open for all yoga practitioners. Students with injuries and health issues are encouraged to attend this training. The most important is that the applicant arrives with an open mind and an eagerness to learn. The course is conducted in English.
---
SUGGESTED OPTIONS FOR GETTING TO LEFKADA ISLAND
---
Lefkada island is located in the Ionian Sea (North West of Greece) and is connected to mainland Greece with a 50-meter long bridge. SHUTTLE BUS FROM ATHENS AIRPORT TO THE RETREAT CENTER:🚌 Book a flight for Athens Airport (ATH). Arrive on the day of the course: a shuttle bus can pick you up from the Airport at 4:00 p.m. and will take you directly to the yoga center (drive duration 5 hours). Departure on the last day of the course: a shuttle bus can pick you up from the yoga center at 9:00 am and will drop you off at Athens' Airport at approximately 3:00 p.m. Total cost of the shuttle bus is 100 euros for 2020 and 120 euros for 2021. (both ways) FLYING TO PREVEZA OR IOANNINA AIRPORT✈️ The closest airport to Lefkada Island is Preveza/Action (PVK) Airport, located 60 km from the yoga center. If you arrive at this airport, a taxi to the retreat center costs approximately 100 euros. The next closest airport is Ioannina (IOA) and it is 176 km from the yoga center. Visit www.opodo.com for flights to Ioannina airport. Please check the availability of flights for both airports, (PVK and IOA) becasue the months in which we run our teacher training programs are not in high season, therefore, there might not be flights every day. A Facebook group will be created three weeks before the course starts to optionally coordinate a shared taxi/shuttle bus with your fellow students. PUBLIC BUS FROM ATHENS CENTER TO LEFKADA: 🚌🚖 From the airport, take bus X93 and get off at the last bus stop. This ride takes approximately 60 minutes. Walk 300 meters to the main bus station called KTEL. Address: Street Kifissou 100, Athens. Take the KTEL bus that goes to Lefkada island. The duration of the ride is about 5 hours and 30 minutes. The buses depart from Athens four times per day. More information and details here: https://ktel-lefkadas.gr/en/1942-2/ Take a taxi from there to Urania's Retreat Center.
---
TESTIMONIALS
---
See what our students say about our courses.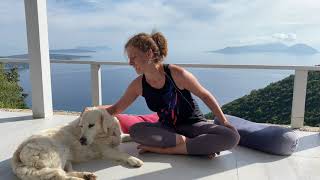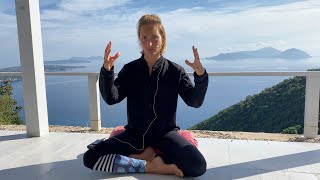 - FIND MORE TESTIMONIALS IN OUR "ABOUT" PAGE
---
---
YOUR TYPICAL TRAINING DAY IN THE YOGA COURSE
YOU WILL TRAIN RIGHT HERE
...WHAT STUDENTS SAY ABOUT THIS YOGA COURSE
Review by Signe Eshøj from Denmark
July 28, 2019
"Best yoga teacher training!"
Martin and Joanna are excellent teachers and have put together the perfect curriculum for you to deepen your practice and becoming a yoga teacher! I loved the big emphasis on "Adjustments and Alignment", which I am sure you won't get most places, at least not in this amount or quality! Definitely the best classes of the course. The two-hour morning yoga classes were excellent. I loved that it changed between Ashtanga and Vinyasa and how much attention the two teachers paid to evolve your practice. I didn't practice Ashtanga before I got there and wasn't sure it was really for me. Martin turned that around! I don't think I will be a "pure ashtangi", but he really opened my eyes to the practice. I also loved the many workshops we did, to dig into some of the more challenging asanas or working on correct alignment in some of the poses we think we know and regard as easy, but potentially can injure us, because we are doing it wrong (e.g. Chaturanga). We started teaching each other during the first few days, which in my opinion is very important so that you can slowly begin to develop your skills as a teacher. The classes where we taught each other were excellent and we got a lot of usable information on how to teach and build a class. In general, I found that the theoretical classes really opened up to everything behind the physical yoga practice. The place was beautiful, the staff nice and the water amazing. I would with no doubt recommend this teacher training!
Review by Aneta Opletalová from the Czech Republic
July 23, 2019
"Practice and all is coming!"
An amazing life-changing experience! I could not wish for a better TTC. I am so grateful for the opportunity to study with the best teachers. They are very well educated, passionate and so inspiring. They supported us and motivated us during the whole training because they wanted us to leave as confident teachers with great skills. The knowledge they provided about philosophy and anatomy was enough to understand the concepts of yoga and to encourage us to continue studying. The training was very intense, of course, but the schedule was well planned. When we felt really tired, we always had an easier day ahead of us. It was never boring because every subject had a different teacher. We learned about adjustment, alignment, vinyasa sequencing, pranayama techniques...we covered a lot! For most of us, this was the first real experience with ashtanga yoga and it really provided a great foundation for further studies. In one week we were able to practice in a Mysore class, without any previous experience. The location was amazing, with crystal clear sea, great food and nice, clean accommodation. Thank you for everything!
200-HR YOGA TEACHER TRAINING IN OTHER LOCATIONS