Yoga

Teacher Training Europe, Greece




200-Hour Vinyasa and

Ashtanga




Evia Island 2021





28th August-18th September 2021




5th-26th November 2021
200-HOUR VINYASA AND ASHTANGA




YOGA TEACHER TRAINING, EUROPE, GREECE




Evia Island
​​
The above prices already include an early bird discount of 150 Euros. To take advantage, reserve your spot 60 days ahead. (28th June for the course that starts in August and 5th September for the November course)

Unlike other yoga schools which make the deposits non-refundable, we have a flexible deposit policy adapted to the circumstances we now live in. Email us and we will send you our triple-step "You don't lose your deposit guarantee".

A deposit of 400 Euros is required to reserve your spot and the remaining balance is paid upon arrival.

All packages are residential and include the accommodation of your choice, brunch, afternoon snacks, dinner, drinking water, tea, coffee, tuition fees, and student manual.

Book your flight to Athens Airport on the 1st day of the course (land before 2:00 pm) and book your return flight on the last day of the course after 11:00 am. Shared taxis among the participants will be arranged by us when possible.
GREECE YOGA TEACHER TRAINING OVERVIEW
This 200-hour Vinyasa and Ashtanga Yoga Teacher Training is a foundational course designed for yogis with a variety of experience. It is ideal for serious yoga students who wish to deepen their existing practice, learn about all aspects of yoga, how to teach yoga, and for yoga teachers wishing to expand their existing skills or learn another style of yoga.
By the end of the course, you will obtain the skills, tools, and confidence to teach Vinyasa Flow Yoga. You will have many opportunities to teach yoga to your fellow students, giving and receiving continuous constructive feedback. At Alpha Yoga School we strongly encourage each student to discover and develop their unique style and voice as a teacher. We do not create a monologue of how and what the teachers should say in their classes. Ready to practice Vinyasa Yoga with Joanna?
You will obtain a solid and strong self-practice based on Ashtanga Vinyasa Yoga. Ashtanga Vinyasa Yoga is the foundational practice of modern-day yoga. Power Yoga, Rocket Yoga, Jivamukti and Vinyasa Flow Yoga are a few practices that stem from Ashtanga Vinyasa Yoga. Ashtanga works with a set sequence of postures that strengthen, align and purify the body from the inside out. Since you practice the same postures in the same order, you slowly memorize the sequence and you won't have to think about the sequence. This is when the mind becomes clear and the practice becomes a moving meditation. The ability to practice Ashtanga Vinyasa on your own will allow you to take your practice away from the studio and will enable you to practice on your own anytime, anywhere.
Do you want to find out more about the difference of these two yoga styles?
​
This training is recognized by Yoga Alliance USA and Yoga Alliance UK and focuses on four educational categories:
​
The Practice and Theory of Yoga. You will practice Ashtanga and Vinyasa Yoga in the morning and some afternoons you will have more relaxed classes such as restorative and yin yoga. You will learn how to teach Vinyasa classes and classes based on Ashtanga Vinyasa Yoga. You won't learn how to perform cacao or fire ceremony, you will not do Acro, chair yoga or prenatal yoga.

Yoga Philosophy & Ayurveda, aspects of yoga which are not learned in yoga studios.

Teaching Skills & Hands-on Adjustments. You will start teaching from day one and and practice hands-on adjustments on your fellow students. You will be receiving constant feedback from the teachers so that you can improve each and every time.

Functional Anatomy so that you can understand how your body and your students' bodies move in the postures
Upon successful completion, you can teach yoga anywhere in the world and may also register with Yoga Alliance USA and UK. This is optional and totally a personal choice.
We welcome "stiff" students, students suffering from an injury or other health challenges, and we encourage their attendance!
Pregnant women are welcome in the 2nd trimester.
If you love learning, have a body, and can breathe – this training is for you.
This teacher training is limited to 20-24 students per course to ensure you get the attention you deserve.
You will study with a team of three dedicated and experienced teachers.
​
Come as a practitioner, leave as a teacher.
THE YOGA TEACHER TRAINING AT A GLANCE
Vinyasa Flow Yoga 3 times per week. Prepare to sweat and to be challenged :-)

Ashtanga Vinyasa Yoga 3 times per week. Guided classes and self-practice classes.

Alignment break-down for around 51 yoga poses (their keys and aims).

Modifications (accessible) and variations (advanced) of yoga postures

How to use the props correctly for your own practice and for your future students.

Hands-on adjustments techniques so that you can align your students correctly in the poses. This is a module which you will not find in other 200-hour courses.

Teaching skills (how to give verbal instructions, how to demonstrate poses, how to position yourself towards the students).

How to create your own yoga Vinyasa classes. (sequencing that makes sense)

Break down analysis of Vinyasa classes that are taught to you in the mornings (a technique which you will not find in other 200-hour courses).

Yoga philosophy so that you can become a better person off the mat.

Introduction to Ayurveda, so that you can learn a holistic way of life and how to self-heal.

Pranayama and meditation techniques so that you can learn how to practice yoga off the mat.

Yoga anatomy: anatomy applicable to yoga practice. This will help you create safe and intelligent yoga classes.

Common injuries and how to avoid them or work around them. Who doesn't have injuries these days, right?

Teaching yoga flows classes to your fellow students and receiving constructive feedback from them and from the teacher.

Workshops for more complex and challenging poses. This is the most beloved subject of all, not because Martin will teach you everything he's got but because you will also brings have fun.

The business of yoga, yoga career, and marketing so that you can start promoting yourself as a teacher. (not only on Instagram)
LOCATION OF YTT - SUNNY GREECE, RIGHT BY THE BEACH
Evia Silence is a tranquil family-run hotel and yoga retreat center nestled in the mountains of Greece's beautiful Evia Island. It is located only 2,5 hour-drive from Athens Airport (ATH). Overlooking the bay and the crystal clear sea, you can jump from Shavasana straight into cool, sparkling waters within steps. The yoga studio and the dining area have an amazing sea view of which you will never get bored.
The location is so quiet, that the only traffic you will hear is the supply food truck twice per week :-)
Evia Silence offers single, shared twin, triple and quadruple accommodation options.
- Single room: 2 single beds put together
- Shared twin: 2 single beds (90cm wide)
- Shared triple: 3 single beds (90cm wide)
- Shared quadruple room: Big room with 2 separate spaces. Each room has 2 single beds 90cm wide. Terrace, small fridge, TV, bathroom.
​
All rooms include shared bathrooms, air-conditioning, space for your clothes, and Wi-Fi. Most of the rooms have sea view and balconies.
Two freshly renovated rooms with partial sea views and without terrace may be offered for single occupancy in the attic.
Roommates will be assigned for all shared rooms unless otherwise requested. Triple and quadruple rooms can be mixed.
Evia's kitchen caters to all breakfasts, afternoon snacks, and dinners for this course. Their chef provides fresh natural vegetarian and vegan cuisine using only the finest local produce and ingredients. Specializing in traditional, healthy, Greek and international dishes, their goal is to satisfy an array of palates through balanced nutrition.
Within five minutes walk you can also find local tavernas serving traditional Mediterranean dishes in a quaint waterfront village.
​
​
LEARN EVERYTHING ABOUT YOUR TRAINING
TEACHING SKILLS
---
In this module, you will learn essential sequencing principles in order to create your own Vinyasa Flow classes. We will look at the difference between sequencing for beginners versus more experienced students. We will cover the different types of Vinyasa classes, which are: well rounded class peak pose class peak pose per flow themed class Teaching skills will include:
how to demonstrate asanas including reasons to demonstrate, when, why, do's and don'ts
how to maintain group energy
how to work with a mixed-level class
how to give verbal instructions
how to use your voice as a yoga teacher
There will be lots of practical teaching, planning, guidance and feedback on how to improve and enhance all these teaching skills. You will observe, teach and receive constructive feedback from your fellow students and your main teacher.
---
MORNING ASANA CLASSES
---
Our asana curriculum is split equally between Ashtanga Yoga and Vinyasa Flow Yoga, with three Ashtanga and three Vinyasa yoga classes per week. Ashtanga Vinyasa Yoga is a pre-set sequence of postures linked by the breath. Through the practice of breathing, postures (asanas), and gazing point (drishti), one slowly gains control of the senses and mind. Over time, with repeated practice and devotion, it unfolds into a moving meditation, awakening a sense of subtle awareness within. The mind becomes calmer, and slowly we are able to clear away the clutter. When this happens, the light of yoga begins to shine. This is the transformational beauty of the Ashtanga yoga practice. Vinyasa Flow yoga means flowing from one posture to another using breath. No two vinyasa classes are alike. The morning Vinyasa classes are designed to complement the theory we cover in the "Teaching skills and Sequencing".
---
ALIGNMENT AND HANDS-ON ADJUSTMENTS
---
In this module we will examine 51 yoga postures in terms of:
correct alignment (called key alignment) and what is the aim of each pose
common misalignments, misconceptions and tendencies
modifications using props or not
hands-on adjustments with many opportunities to practice on your peers, while receiving feedback from them and your teacher.
---
WORKSHOPS
---
In these workshops, we break down complex postures like lotus, headstand, backbends, transitions, chaturanga dandasana, jump back and jump through and inversions. We teach baby pre-requisite steps that include preparation exercises, appropriate warm ups and requirements for the full expression of the posture. These classes will bring safety, awareness and mindfulness to your practice and teaching. They are a game changer :-)
---
ANATOMY
---
You will explore functional yoga anatomy and how to safely deepen your practice through your body. You will learn about the skeletal, muscular, and nervous systems through a comprehensive breakdown of the regions of the body most applicable to the practice. Through practical application, you will investigate the different types of connective tissues, experience the movements of the joints, and connect with your fascial body. You will leave with a more profound understanding of your own and your students' body anatomy.
---
PHILOSOPHY
---
Yoga philosophy is interwoven throughout the course. We will explore what yoga really is; its meanings, significances, ethics and practices in the past and present. We will investigate the roots of the practice; the Vedic tradition and its culture, myths, mantra chanting, bhandas, kryias and their meaning. We then continue down the evolutionary paths of both classical and modern yoga practices. You will be introduced to the Yoga Sutras of Patanjali, the Hatha Yoga Pradipika and the Bhagavad Gita, gaining insight on their commentaries. We will discuss how to integrate yoga philosophy into our every day life.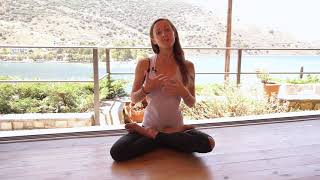 ---
AYURVEDA
---
Ayurveda, the Vedic science of health and longevity, is intrinsically linked to the practice of yoga. These two sister sciences were developed together and traditionally are taught together. We will explore the foundations of this extraordinary holistic discipline while learning its basic principles of self-healing that can be applied both on and off the mat.
---
YOU WILL GET CERTIFIED
---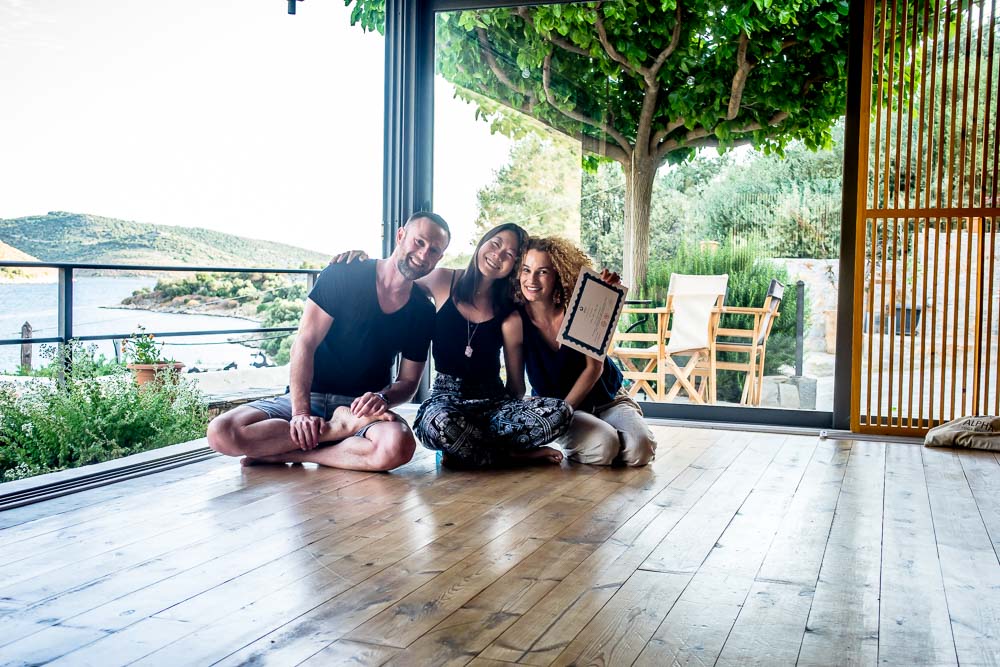 Upon successful completion of the practical and written assignment, you will receive a 200-hour certificate. You will be eligible to register with Yoga Alliance USA and UK as a 200-level Registered Yoga Teacher (RYT-200).
---
WHAT YOU NEED TO CONSIDER
---
This course is open for all yoga practitioners. Students with injuries and health issues are encouraged to attend this training. The most important is that the applicant arrives with an open mind and an eagerness to learn. The course is conducted in English.
---
HOW TO GET TO EVIA SILENCE
---
Taxi from Athens Airport: A taxi costs around 120 euros when it is not shared and around 40 euros each if shared with three other people. If you want us to arrange a taxi, please send us your complete flight details. The driver will be waiting at the airport with your name on a sign and will bring you straight to Evia Silence. We will create a Facebook group for students a couple of weeks before the course so that you can coordinate a shared taxi with your fellow students. Public buses and taxi from the airport: You can combine two public buses and a taxi to come to Evia Silence. From the airport, take Express Bus X93 for 6 euros and get off at Liosion Intercity bus station. The ride will take about 20-30 minutes. Walk to the big building opposite the bus stop and take the bus to Aliveri for about 12 euros. The ride will take about two hours and a half. Ask the second bus driver what time the bus will reach Aliveri and send that time to us so that we can arrange your taxi from there to the retreat, 27 km away. The taxi will cost about 25 euros. Rent a car: Drive until you reach Agia Marina Harbor in the Marathonas area, take the ferry from Agia Marina Harbor to Nea Steira Harbor (port) and then drive about 24 km (30 minutes until the retreat center). The ferry cost per person is 5 euros; for a car, it is 15 euros.
---
TESTIMONIALS
---
See what our students say about our courses.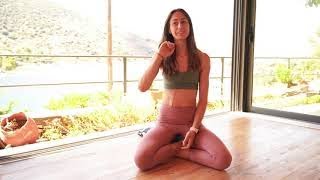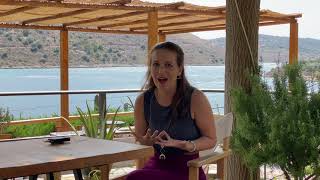 - FIND MORE TESTIMONIALS IN OUR "ABOUT" PAGE
---
---
YOUR TYPICAL TRAINING DAY IN THE YTT
YOU WILL PRACTICE YOGA WITH SEA VIEW
...WHAT STUDENTS SAY ABOUT THIS YOGA COURSE
Review by Signe Eshøj from Denmark
July 28, 2019
"Best yoga teacher training!"
Martin and Joanna are excellent teachers and have put together the perfect curriculum for you to deepen your practice and becoming a yoga teacher! I loved the big emphasis on "Adjustments and Alignment", which I am sure you won't get most places, at least not in this amount or quality! Definitely the best classes of the course. The two-hour morning yoga classes were excellent. I loved that it changed between Ashtanga and Vinyasa and how much attention the two teachers paid to evolve your practice. I didn't practice Ashtanga before I got there and wasn't sure it was really for me. Martin turned that around! I don't think I will be a "pure ashtangi", but he really opened my eyes to the practice. I also loved the many workshops we did, to dig into some of the more challenging asanas or working on correct alignment in some of the poses we think we know and regard as easy, but potentially can injure us, because we are doing it wrong (e.g. Chaturanga). We started teaching each other during the first few days, which in my opinion is very important so that you can slowly begin to develop your skills as a teacher. The classes where we taught each other were excellent and we got a lot of usable information on how to teach and build a class. In general, I found that the theoretical classes really opened up to everything behind the physical yoga practice. The place was beautiful, the staff nice and the water amazing. I would with no doubt recommend this teacher training!
Review by Aneta Opletalová from the Czech Republic
July 23, 2019
"Practice and all is coming!"
An amazing life-changing experience! I could not wish for a better TTC. I am so grateful for the opportunity to study with the best teachers. They are very well educated, passionate and so inspiring. They supported us and motivated us during the whole training because they wanted us to leave as confident teachers with great skills. The knowledge they provided about philosophy and anatomy was enough to understand the concepts of yoga and to encourage us to continue studying. The training was very intense, of course, but the schedule was well planned. When we felt really tired, we always had an easier day ahead of us. It was never boring because every subject had a different teacher. We learned about adjustment, alignment, vinyasa sequencing, pranayama techniques...we covered a lot! For most of us, this was the first real experience with ashtanga yoga and it really provided a great foundation for further studies. In one week we were able to practice in a Mysore class, without any previous experience. The location was amazing, with crystal clear sea, great food and nice, clean accommodation. Thank you for everything!
200-HR YOGA TEACHER TRAINING IN OTHER LOCATIONS